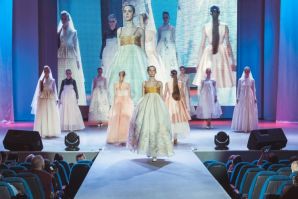 The final of the XXIV International Fashion Contest of Young Designers "PYGMALION" was held at VSUES as the brightest and entertainment event of "Pacific Style Week-2017" on April 22, 2017. It's an annual colorful spring festival of youth and talents, since it offers a great opportunity for talented young artists to present their ambitious projects to leading experts and to a broad audience.
Upward of 60 contestants with inspiration for innovative and creative ideas presented their collections in five categories "Debut", "Prêt-à-porter", "Prêt-à-porter de luxe", "Avant-garde", "Business Idea".
All participants received the competition diplomas. About 30 awardees received prizes and certificates from the Public Jury, partner companies and informational sponsors. Several awardees also will be able to take part in the final of the fashion competition "Russian Silhouette" in Moscow and in China Zhengzhou International Culture Fashion Week.
"PYGMALION" WINNERS:
"Debut" – Lolita Kuzmenko with "A City Inside" collection, Secondary General School ¹ 60 (Vladivostok, Russia)
"Prêt-à-porter" – Suh Do Lee with "Suh Do Lee" collection, Sungshin University (Seoul, Republic of Korea)
"Prêt-à-porter deluxe" – Seong Hee So with "Seong Hee So" collection, Sungshin University (Seoul, Republic of Korea)
"Avant-garde" – Irina Gerasimchuk and Arina Kuznetsova with "The World Within Yourself" collection, VSUES (Vladivostok, Russia)
"Business Idea" – Alexandra Stephaniuk with the "Thawing" collection, VSUES (Vladivostok, Russia)