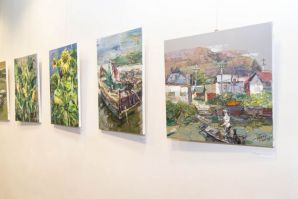 The exhibition of Wang Wenjiang, a talented artist from Heilongjiang Province (PRC) was held in VSUES Museum and Exhibition Complex. A personal exhibition, entitled "Soul reveal" introduces viewers to the artist's personal vision of his homeland, but also during his travels around Russia. The exhibition presents about 40 artworks - landscapes, portraits, genre scenes.
Wang Wenjiang was born in 1956 in Heilongjiang Province; he graduated from the China Central Academy of Fine Arts (Beijing) in 1982. Today he took the helm of Mudanjiang city Art Association, and holds membership of China Artists Association in PRC.
The artist is well known not only in China, his exhibitions were successfully encompassed in Tokyo, Sydney, Seoul, Khabarovsk, and Vladivostok. The works of Wang Wenjiang are unveiled in China\'s state museums and his private collections were displayed around the world.
The director of the IX Vladivostok International Biennale of Visual Arts, Anastasia Fedorova, expressed her thoughts on the art exhibition:
- This is the second exhibition in the framework of the Biennale. Our guest from China shows us the life of the village outback, the life of the villagers. Special thanks to the University for the Opportunity to hold an exhibition on the territory of the university.