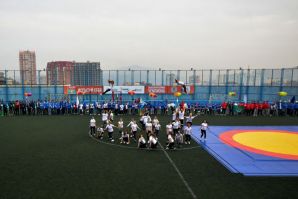 The major event in October for the Vladivostok student's community was the II International Student Spartakiade which is held as part of the international student program Generation of the world initiated by the Russkiy Mir Foundation, APARLLT (Asia-Pacific Association of Russian Language and Literature Teachers).
Hundreds of foreign students from different universities in the Primorsky Region of the Russian Far East took part in a variety of sports such as futsal, swimming, paddle tennis, volleyball, badminton, streetball and relay race.
More than fifty foreign students represented VSUES from the People\\'s Republic of China, the Lao People\\'s Democratic Republic, the United States of America, the Republic of Tajikistan, the Republic of Uzbekistan and the Republic of Azerbaijan.
The VSUES women\\'s team won in volleyball competitions, mounted to the second place in swimming, and finished third place in table tennis and badminton.
The men\\'s team won in volleyball and badminton competitions were awarded the second place in swimming and third place in table tennis and mini-football.
The VSUES team also placed second place in the relay race "4 to 50" and "4 to 100".
The Grand Prix of the II Games of ATAPRYAL became a well-deserved award for our team.