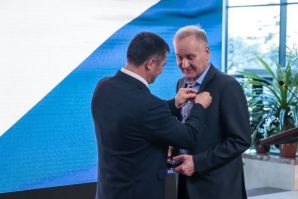 Andrey Tarasenko, the acting Governor of Primorsky Krai, awarded the Order for Merit of Primorye to Gennady Lazarev, VSUES President.
Official awards ceremony was held at the meeting dedicated to the results of social-economic development of the region in 2017. The participants of the event were public figures, government representatives and professional bodies from all parts of Primorye.
Gennady Lazarev, the VSUES President, is known as the Member of Legislative Assembly, his life is closely connected to Vladivostok and Primorye. He was born here, studied at polytechnic institute, became a rector, and then – a president of VSUES. Thanks to his professionalism, lofty responsibility and talent, VSUES turns out to be even one of the best universities of the Far East territory.