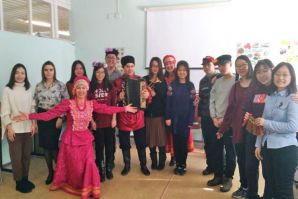 The Pre-University Education for foreign students (DPUE) of the Institute of Foreign Language hosted the winter school of Russian Language. The participants of this program were students from Beijing and Tianjin Foreign Studies Universities. The organizers of winter Russian Language school – 2018 were the Head of DPUE, Victoria Soleinik, experienced teaching staffs – Olga Agapitova, Elena Borovik, Svetlana Karyakina and Marina Trokhovtseva.
Our Department holds winter Russian Language School annually for foreign students. The program offers students to study effective and intensive Russian language course and experience diverse field trips that help to be acquainted with Russian traditions and customs, - said Victoria Soleinik.
For example, for Russian cuisine topic students participated in a master class on preparing traditional Russian dumplings supervised by the chief cook of our café. After "Flora and Fauna of Russian Far East" class, students had an excursion to Primorsky Aquarium and Safari Park, - added Marina Trokhovtseva.
In addition, students had a chance to immerse themselves in traditional music by taking part in singing folk songs, country dancing etc.
At the end of the winter school of Russian Language, the Director of the Institute of Foreign Language, Yuliya Konovalova acknowledged each student with a certificate in excellent academic performance and wished continued success in their future learning process.