Foreign students of VVSU got acquainted with the military history of Russia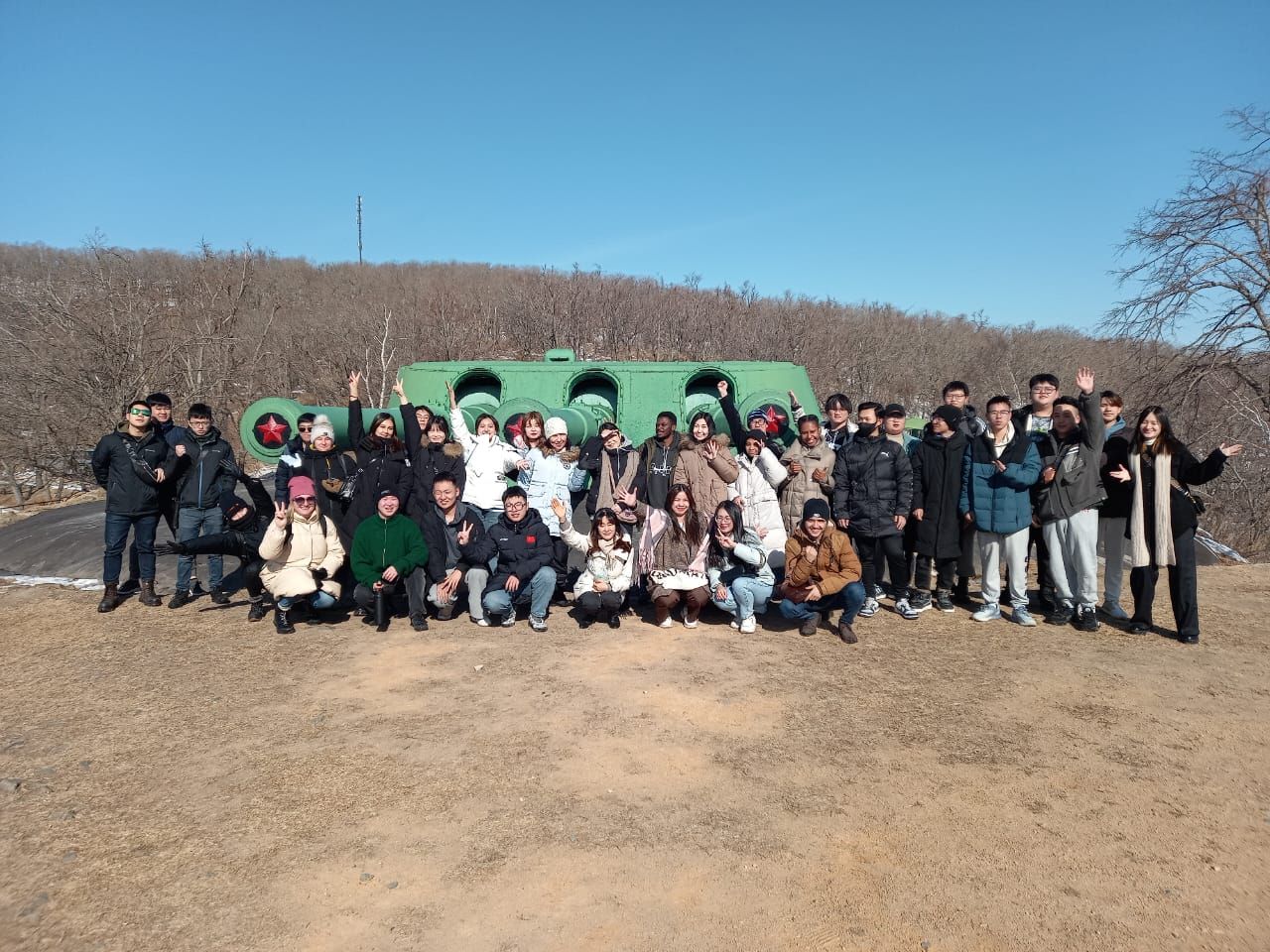 On the eve of Defender of the Fatherland Day, international students from the School of Pedagogy and Linguistics visited the Voroshilovskaya Battery museum.
Victoria Soleynik, Head of the Preparatory Department for Foreign Citizens, comments:
– Students of our department during the year of preparation for admission to the university should not only learn Russian, but also get acquainted with the traditions and history of Russia. That is why the Day of Defender of the Fatherland Day was held such a tour of the open-air museum. Our students from China, Korea, Japan, Uzbekistan, Nigeria, Laos, Thailand, Mongolia, Indonesia and Taiwan saw with the beauty of the Russian island, the power of our army, and the complexity of military equipment.
Wang Ziheng, a first-year Linguistics undergraduate student, shared his impressions:
– We were looking at tanks and cannons. I didn't realize the guns were so big! We went down three floors underground – there are different rooms for shells and fighters. This excursion made an indelible impression on me.
Bukuerban Kadieraili, a second-year undergraduate linguistics student, also gave her opinion:
– I liked the excursion – everything was very well organized – the bus, the walk, even tea and sandwiches. The museum itself is very impressive – everything is powerful and huge. Each cannon was served by 75 people! Around the museum is a beautiful forest and a sea covered with ice. It is very beautiful!
Reference: Voroshilovskaya battery – shore tower battery No. 981 named after Klim Voroshilov with a caliber of 305 mm. Under each of the two towers, there are underground accommodation, technical rooms and warehouses, 3 floors in total. The towers are interconnected through a 250 m long rubble. Voroshilovskaya Battery is one of the unique fortifications in the world. The shore battery is listed in the Guinness World Records. The decision to build it was taken in the spring of 1931. The next two years took only rock and underground work. Towers and trunks were delivered to the island by sea, and then – on a specially built railway. The first tower was ready on February 1, 1934, and on April 1, 1934 – the second. The battery is located on the island of Russky in Vladivostok. A similar battery is found only in Sevastopol.